Cantera Seeds Canola
CS2600 CR-T
Meridian Seeds Exclusive
Superior pod shatter tolerance, ideal for straight cutting. Early maturity with clubroot and blackleg resistance.
| Blackleg† | Clubroot‡ |
| --- | --- |
| R-C | R (2,3,5,6,8+2B, 5X) |
CANTERRA SEEDS was founded by nine Canadian seed growers and is a farmer-owned company to this day. They offer one of the broadest seed portfolios in Western Canada, cultivated through local investments in plant breeding, access to a global network of germplasm and traits, and a steadfast belief that farmers deserve the best. They have strategic partnerships around the world, and varieties tested locally across Western Canada.
These canola hybrids offer the traits you want and genetics you need. Look for these Yield Stamps to identify canola hybrids that provide extra protection to maximize your canola yield.
Roundup Ready® Seed

Bayer Company is a member of Excellence Through Stewardship® (ETS). Bayer products are commercialized in accordance with ETS Product Launch Stewardship Guidance, and in compliance with Bayer's Policy for Commercialization of Biotechnology-Derived Plant Products in Commodity Crops. This product has been approved for import into key export markets with functioning regulatory systems. Any crop or material produced from this product can only be exported to, or used, processed, or sold in countries where all necessary regulatory approvals have been granted. It is a violation of national and international law to move material containing biotech traits across boundaries into nations where import is not permitted. Growers should talk to their grain handler or product purchaser to confirm their buying position for this product. Excellence Through Stewardship® is a registered trademark of Excellence Through Stewardship.
Seed containing a patented trait can only be used to plant a single commercial crop. It is unlawful to save and replant Roundup Ready® spring canola, Roundup Ready® winter canola, and TruFlex® canola with Roundup Ready® Technology. Additional information and limitations on the use of these products are provided in the Technology Stewardship Agreement and the Bayer Technology Use Guide: tug.bayer.com. U.S. patents for Bayer technologies can be found at the following webpage: cs.bayerpatents.bayer.com
ALWAYS READ AND FOLLOW PESTICIDE LABEL DIRECTIONS. Roundup Ready® Technology contains genes that confer tolerance to glyphosate. Glyphosate will kill crops that are not tolerant to glyphosate. Roundup Ready® and TruFlex® are registered trademarks of Bayer Group.
Reserve your Meridian canola seed today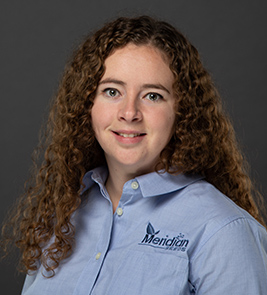 Katie Heid
Upper Midwest Territory Manager
Serving Minnesota, North Dakota, and South Dakota